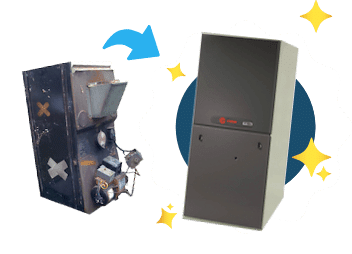 Oldest Furnace
Contest
Share your old one
Win a new One!
So...
You have the oldest furnace still in existence — or perhaps just a solid clunker?
If so, you could win a brand new furnace for free or several other valuable prizes from A/C Contractors.
Why? Images of hilariously old furnaces go viral for us on social media, so we want to gather as many as we can and reward the best and oldest ones.
If you think your old clunker of a furnace is the one, take a photo of it and send it to us, along with another image of the manufacturer's name and a serial number. Or you just write these down and send them with the main photo.
Rewards

1st Place
If you win the contest we will remove that old furnace and replace it with a brand new, high-efficiency furnace worth up to $5,000!

2nd Place
Gets 25% off the cost of a replacement furnace!

3rd Place
Any Old Clunker: 10+ years
Any entrant with a furnace over 10 years old gets a free Super Tune-up (Value: $189).
If you've made it 10 years, you're already doing well. If your image is great, and your system is more than 10 years old we'll help you get more life out of it with our Super Tune-Up.
Did you know?
Many accidents involving gas furnaces are caused by faulty parts. And, older furnaces that don't comply with current standard safety codes are at an even higher risk.
The average life expectancy of a gas furnace is 10 years depending on the brand and maintenance performed over the life of the unit. As mechanical equipment ages, its performance degrades and becomes less efficient.
Contest Rules
Please read carefully.
Participate Now
Please fill out the form below and make sure you've read the details and rules!
By submitting this form, you give A/C Contractors permission to provide you with updates about this contest, exclusive A/C contractors and subject to disqualification. discounts and helpful information via email. Don't worry we won't sell or share your information and you can opt out at any time.