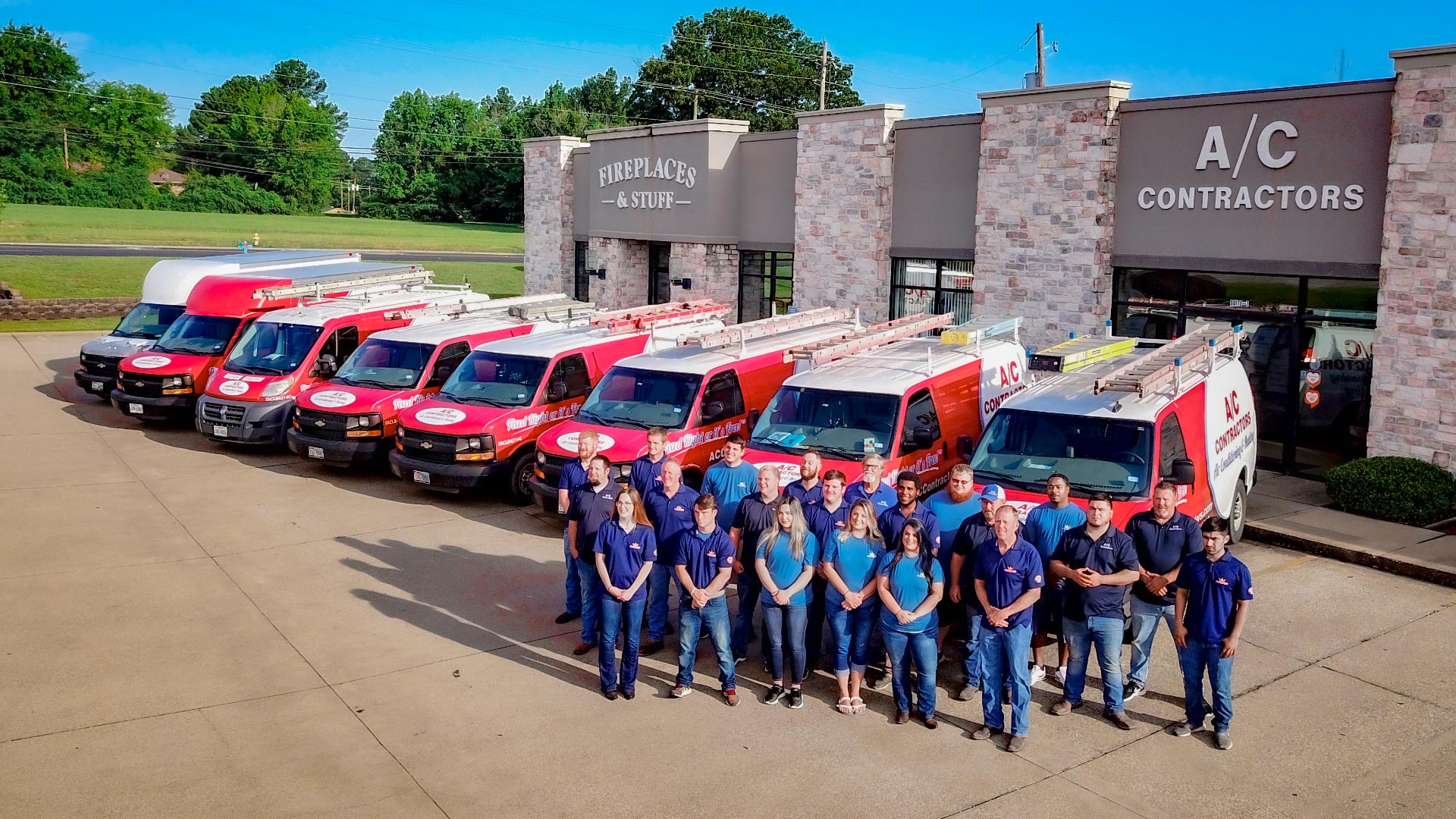 At A/C Contractors, our team understands how important it is to keep your home comfortable all year long by having the best and most dependable cooling and heating system. Our HVAC services will help ensure you have a clean, safe and efficient home environment. For over 25 years, our skilled team of friendly cooling and heating professionals has provided effective and dependable HVAC and air quality maintenance, furnace repairs, emergency repairs, heat pump replacements, plus repair and installation services for residents throughout the Longview, TX, community and beyond.
Thanks to our years of extensive, local and quality HVAC experience, we can offer all of our customers personal cooling and heating solutions and recommend the highest quality products from trusted brands that best suit your daily needs, operational expectations and budget. We believe in providing the best services, and customer service, to all Longview and Tyler, TX, home and business owners. That's why we have a variety of workmanship and product warranties, and our "Fixed Right or It's Free" guarantee. It's also why we're the trusted, go-to air conditioning contractors in the service area of Longview, Tyler, and beyond.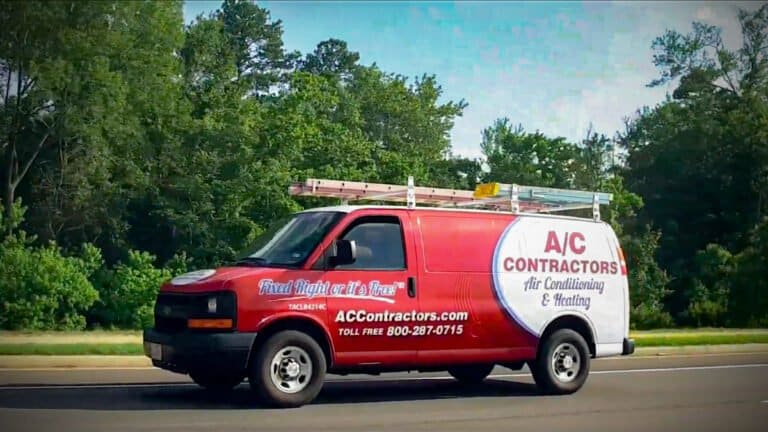 Contact A/C Contractors — Your Longview and Tyler, TX Comfort Kings
At A/C Contractors, we believe all homeowners throughout Longview and Tyler, TX should be comfortable and relaxed in their homes all year long. With this ideal in mind, the team at A/C Contractors has the most experienced and dedicated HVAC technicians in the area, paired with quality products and heating and cooling service programs. All of our residential products are available with flexible and convenient financing options, and we proudly back each one with a lifetime warranty.
To learn more about our team's philosophies and our Longview, TX HVAC repairs, installations, preventive maintenance and other home heating/cooling efficiency and comfort services, please call us today at 903-759-4250 to speak with a team member or complete our online contact form to request a project estimate. We'd be glad to welcome you to our extended service family!
Professional Air Conditioning, Heating and Indoor Air Quality Specialists in Longview and Tyler, TX
We understand the unique and diverse needs of both local Longview homeowners and business owners, as well as how crucial it is for your HVAC system to operate reliably to maintain lasting comfort and overall efficiency throughout the year. We're dedicated to being the comfort kings of Eastern Texas, so we offer the widest selection of affordable and energy-efficient air conditioning and heating installations and replacements from top-rated brands like Amana, Trane, Goodman and LG.
In addition to our range of quality HVAC replacement services, our highly trained team also specializes in comprehensive HVAC repair and maintenance to guarantee your system operates smoothly throughout the sweltering Texas summers and chilly evenings. Preventive maintenance can be the key to making sure you always receive peak performance from your home comfort systems. When you trust a skilled and dependable service provider like A/C Contractors for that maintenance, you can rest assured that you're getting the longest possible life out of your equipment.
Improved Air Quality and Air Duct Cleaning
Keep your home clean, safe and comfortable with A/C Contractors' maintenance services. You and your family spend a majority of your time indoors, and with our air duct cleaning, purification and filter installation services, and whole-home humidifiers, you can have fresher air, better health and more enjoyable indoor spaces.
While just about everybody appreciates the importance of reliable and effective AC and heating in Tyler, TX, indoor air quality has a tendency to fly under the radar. The air quality inside a home or building can be up to 10 times poorer than the air outdoors. This is due to a range of biological and synthetic contaminants, such as bacteria, pollen, formaldehyde, asbestos and combustion products from stoves, heaters and chimneys.
Whether you're concerned about pollutants aggravating your family's allergies or you just want a breath of fresh air, we can help. We'll study your space and make recommendations on air cleaners, home humidifiers and air duct cleaning services to freshen the air in your space and potentially improve your health and productivity.
Quality Longview/Tyler Cooling and Heating Services
No matter what type of heating or cooling needs you have, or what make and model system you already have installed, trust our friendly and knowledgeable local HVAC specialists to help address your issues. Our technicians are skilled with and knowledgeable about the latest air conditioning and heating technologies, products, and improvements. They can assist you in the selection and installation of quality central air conditioning systems, conventional electric or gas furnaces, heat pump replacements, and other furnace repairs and home efficiency upgrades.
If you are concerned with keeping your home at the forefront of energy efficiency and you want to reduce your monthly utility costs, let us work with you to explore our quality HVAC system upgrade options. By installing efficient eating unit solutions like heat pumps or ductless mini-split systems, you can reduce your energy bills, improve the safety and comfort of your home and minimize your contribution to harmful greenhouse gas emissions.
Fast, Reliable Longview and Tyler HVAC Review and Preventive Maintenance
By hiring our trained and dependable air conditioning cleaning and repair specialists, you'll have access to an HVAC company with the most comprehensive local HVAC repair services in the Longview and Tyler, TX areas. Our skilled "Do-It-Right Guys" specialize in furnace and air conditioning system repairs, preventive maintenance and other common HVAC issues like noisy units, broken thermostats, worn-out parts or air blowing too warm or cool. We're also your local resource for energy-saving and environmentally focused alternatives, such as replacement heat pumps and other quality climate control solutions. We specialize in:
Heat pump repair
Heater repair
Split system air conditioner repair
General home services for A/C systems
To ensure you receive repairs that last, improved energy efficiency, and effective cooling and heating systems every time, we complete all of our services using only the best quality parts and equipment. For the convenience of each of our customers, we even offer emergency 24-hour repair assistance so your family is never left uncomfortable for long when you need service.
Check Out Our Blog
If you'd like to learn more about what we do, why we care so much, and how we bring our industry-leading knowledge to every service call, be sure to check out our company blog. We regularly share tips and tutorials so you can learn more about how your climate control and home efficiency systems work and whether it might be time for an upgrade.
Get a Free Estimate* Today
When it's time to get in touch about your HVAC needs an estimate*, we believe the customer reviews and glowing testimonials from our previous customers will confirm that you've made the right choice. Give us a call at 903-759-4250 or contact us online today!
* On new system installations.
Latest Articles
A good air conditioning filter helps provide cool, clean air during hot periods. Because the filter catches debris, your air conditioner will need maintenance over time, and dirty air filters will need cleaning to help the unit run efficiently. Regular cleaning helps prevent bacteria, mold, dirt and dust from collecting in your unit, keeping your… Read more.
If you are looking to upgrade an existing system or install a new heating, ventilation and air conditioning (HVAC) system, you may be wondering how to choose an HVAC contractor. Additionally, you will need to find an HVAC contractor for routine maintenance and repairs if you have an existing HVAC system. Here are five things...
Read more
.