No one wants their A/C unit failing on a humid, 90-degree day or their furnace breaking down on a freezing night, and if you're like many homeowners, you hope these things never happen. However, there's a way to ensure your HVAC system rarely stops working — with regular, professional maintenance.
Read on to learn about the value of HVAC preventive maintenance, the benefits it provides and how often you should schedule it.
What Is HVAC Preventive Maintenance?
There's a wide range of HVAC maintenance tasks. Nearly any homeowner can handle some of these, while it's best to leave others to professionals.
Fundamental upkeep almost any homeowner can perform to keep their HVAC system running includes tasks like:
Changing air filters every one to three months
Washing electrostatic filters, if you have them
Removing debris from the outside A/C unit
Spraying the unit down with a hose if it's dirty
Ensuring rugs or furniture aren't blocking registers
However, the average homeowner may struggle to complete other crucial maintenance. Some responsibilities require specialized knowledge and tools that only experienced technicians have. Here are some chores you should let professionals handle.
Tightening electrical connections: A loose connection poses the risk of shorting out the whole unit, which can cause damage.
Examining the condensate drain: An A/C unit produces condensation when it runs. While this condensation usually runs to an outside drain, in some cases, these drains become clogged with debris or sludge.
Lubricating moving parts: Intense friction can make units overheat, which can lead to failure. Lubrication of the moving components allows things to move smoothly, thereby lowering electricity consumption and your electric bills.
Cleaning and adjusting the blower: Blower issues can significantly decrease your equipment's efficiency. With a properly adjusted blower, you will get enough airflow and feel more comfortable.
Checking the refrigerant: An overcharged A/C unit could end up costing much more than is necessary to cool the house. An undercharged system generally indicates a leak. A professional HVAC technician can search for this and fix any flaws they find.
Checking fuel lines: Inadequate oil or gas connections can be a fire hazard and may cause health issues. If fumes can make their way into your house, you need to get your connections tightened.
The above tasks are all generally performed during a preventive maintenance service.
Are HVAC Preventive Maintenance Programs Worth It?
Yes, they are. Think of your A/C and furnace like your car — if you get it tuned up regularly, you can avoid emergency breakdowns and extend its life expectancy, which will save you tons of money in the long run. Some choose to forego maintenance programs with the hope of saving money, but regularly having your HVAC equipment tuned up is less expensive than having to pay a substantial repair bill down the road.
Importance of HVAC Preventive Maintenance
This section will provide more detail on why HVAC preventive maintenance programs are so advantageous for homeowners. Here are the top five reasons.
Longer lifespan: Maintenance is critical for prolonging your HVAC system's lifespan. Well-maintained A/C units and furnaces can function reliably for as long as 20 years. Opting for a preventive maintenance program can save you money and time in the long run.
Comfort and safety: During your service appointments, an HVAC professional will clean out your system and examine the internal components. Their checklist often includes such tasks as inspecting the air conditioner and furnace, carbon monoxide testing and replacing filters. Technicians will explain what they've found and work to fix the problem on the spot.
Improved air quality: All air in your house travels through a filter. A simple change of this filter removes trapped debris, dirt and allergens from the home. If you have a high-efficiency filter that lasts a year or more, you can have this changed during your yearly HVAC maintenance service. However, if you have disposable one-inch filters, you should change those every month.
Reduced energy costs: Getting your HVAC system inspected by a professional will ensure that it continues to work at maximum efficiency. If you don't have it thoroughly cleaned every year, you may negatively impact the unit's energy efficiency — sometimes by a surprisingly significant amount. Keeping your system in top shape is the most effective way to lower your energy bills.
Dependable operation: A broken A/C system can be miserable on hot, humid days, and a heater failure can be life-threatening in colder weather. Regularly having your HVAC system maintained minimizes the chance of your unit breaking down prematurely, and that peace of mind is priceless.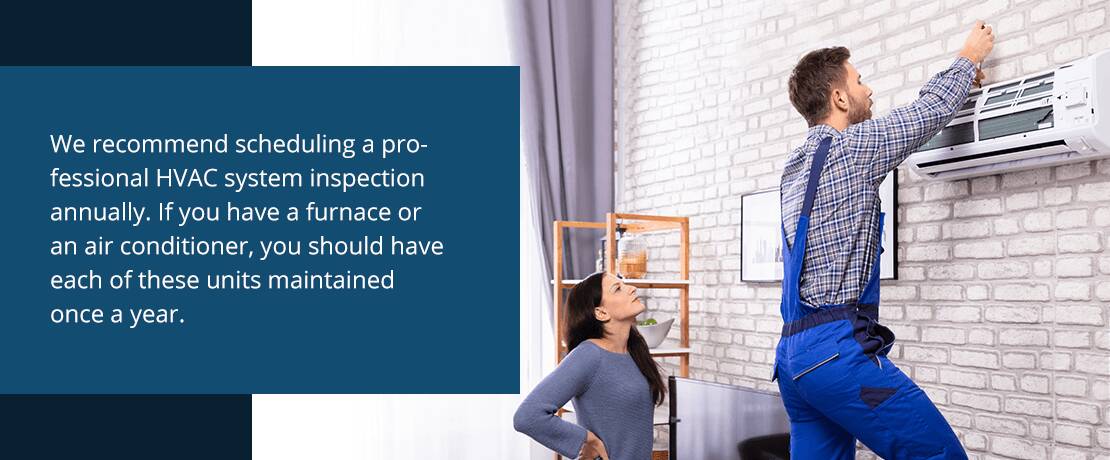 How Often Do You Need HVAC Maintenance?
We recommend scheduling a professional HVAC system inspection annually. If you have a furnace or an air conditioner, you should have each of these units maintained once a year.
The time of year you get these inspections is also essential. For the best possible service experience, we recommend that you have your heater inspected in the fall, which will ensure it's ready for the cold weather. During the warmer months of the year, your furnace is idle, allowing dust and dirt to build up in all the system's components and preventing it from operating at its best. If you start using your furnace in the fall without cleaning its fans correctly, the dust and dirt will come back into your house. It's smart to leave thorough furnace cleaning to HVAC professionals, as this job is messy and hazardous, and doing it improperly could damage the system.
Likewise, you should have your cooling system inspected in the springtime, which will ensure it can keep you cool through summer's heat. This inspection includes cleaning out debris from the outside unit's cooling coils, as clogged coils are the main reason A/C units fail during the hottest months.
If you use a heat pump for heating and cooling, have it inspected twice a year — once in the spring, once in the fall.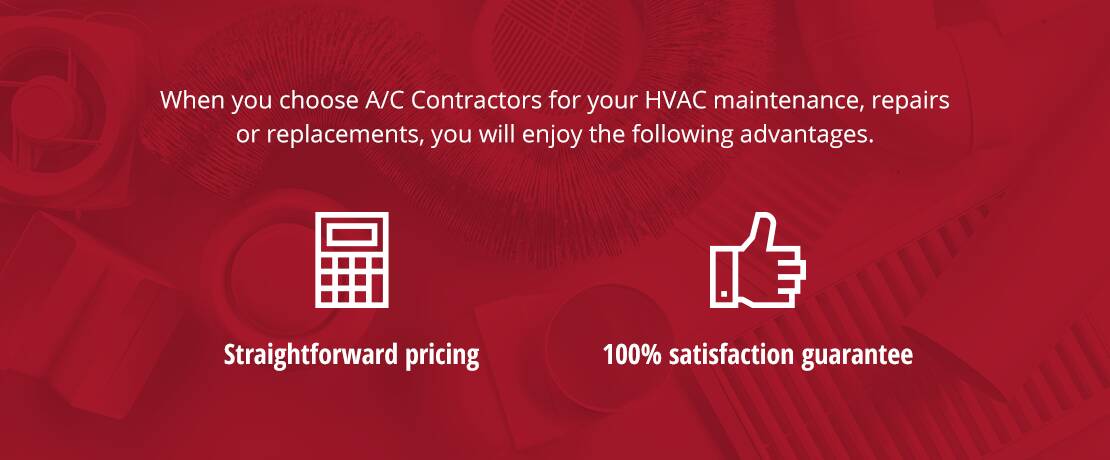 Call A/C Contractors for All Your HVAC Needs
We are a full-service A/C and heating contractor and can install and service complete air conditioning, heating and ventilation systems. Other than servicing existing equipment, performing preventive maintenance and installing new equipment, A/C Contractors can also help you lower your energy costs by providing a detailed cost-benefit analysis of your system.
When you choose A/C Contractors for your HVAC maintenance, repairs or replacements, you will enjoy the following advantages.
Straightforward pricing: You'll always know how much you'll pay before we begin work, which will help you make a well-informed decision.
100% satisfaction guarantee: We guarantee we'll do a top-notch job. If you don't feel satisfied, we'll repair it again for free. Likewise, if the replacements we've installed do not perform as we've stated, we'll remove the replaced components and refund you 100%.
If you need our maintenance, repair or replacement services, fill out our contact form or give us a ring at 903-759-4250.